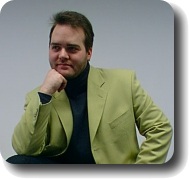 Education: Electrical Engineering at the University of Kaiserslautern,
Occupational: Vide president for digitalization and professor with focus on software technology and software engineering in information management / business computer science at the University of Applied Sciences Kaiserslautern, location Zweibrücken, Germany. 30 years of system system programming on various Unix platforms (Solaris, Aix, HPUX, Linux), founding member of the Unix-AG at the University of Kaiserslautern, co-founder of LinuxTag e.V., IT consultant and software developer.
Private: music/composition, chess.
Focuses: Software development of specialized client / server applications including operating system, IT consulting, special system configuration, system security, web programming, administrative support and data recovery, development and adaptation of live systems,
Training Consultant for: Open source, ubiquitous computing, operating systems, various programming languages (including C, JAVA, PERL, PHP, LaTeX, BASH), Unix applications, system administration, web design (HTML, Javascript, PHP, media conversion), Internet for beginners and advanced, IT security, short lectures on various Linux applications and client / server systems (such as SAMBA, remote administration, iptables / firewall) and OSS migration.